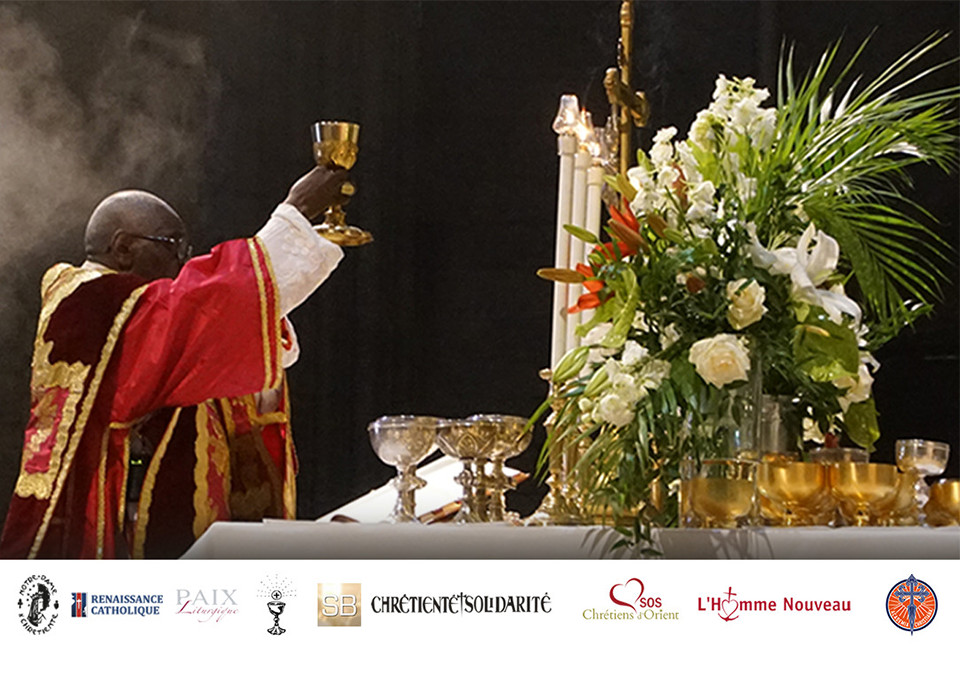 Dear Brothers and Sisters in Christ,
We have been deeply saddened to learn of Pope Francis' decision to revoke the main provisions of the Motu Proprio Summorum Pontificum promulgated by Pope Benedict XVI on July 7, 2007. After decades of division and quarrels, Summorum Pontificum was a source of peace and reconciliation for all Catholics.
Rome has violated Pope Benedict XVI's solemn word in a brutal and rigid manner that is a far cry from the fraternal welcome that is nowadays so widely proclaimed.
Pope Francis' explicit intent, as expressed in the Motu Proprio Traditionis Custodes of July 16, 2021, is to see an end of the celebration of the Holy Mass handed down by the Tradition of the Church. We are deeply shocked by this decision. How can we comprehend this radical break with the traditional Missal, which is the "venerable and ancient" enactment of the "law of the faith", and has borne fruit in so many peoples, saints and missionaries? And what harm is being done by those faithful who simply want to pray as their fathers have prayed for so many centuries? Who can ignore the fact that the Tridentine Mass converts many souls, attracts young and fervent congregations, and inspires many vocations; that it has been the wellspring of seminaries, religious communities, and monasteries; that it is the mainstay of many schools, youth ministries, catechetical work, spiritual retreats and pilgrimages?
Many of you – our Catholic brothers, priests and bishops – have expressed to us your incomprehension and deep sorrow: we thank you for your numerous testimonies of support.
Summorum Pontificum's stated purpose was to promote peace within the Church in order to build unity in charity, but it was also designed to lead Catholics to renew their ties with their own inheritance, by helping as many people as possible to discover the rich liturgical tradition that is the treasure of the Church. Pope Emeritus Benedict XVI is witnessing the destruction of his work of reconciliation in his own lifetime.
In this age of materialism and of harrowing social and cultural division, liturgical peace is an absolute necessity for the faith and spiritual life of Catholics, in a world that is dying of thirst. The drastic curtailment of the authorization to celebrate Mass in its traditional form will rekindle mistrust and doubt, and heralds the resurgence of a devastating liturgical quarrel that will rip apart the Christian people.
Before God and before all men and women, we solemnly affirm that we will not allow anyone to deprive the faithful of this treasure which is first and foremost that of the Church. We will not remain inactive in the face of the spiritual suffocation of vocations that the Motu Proprio Traditionis Custodes will bring about. We will not deprive our children of the unique means of transmitting the faith that is faithfulness to the traditional liturgy.
As loyal children of their father, we ask of Pope Francis that he reverse his decision, repealing Traditionis Custodes and restoring full freedom to celebrate the Tridentine Mass, for the glory of God and the good of the faithful. Bread rather than stones.
September 8, 2021, Feast of the Nativity of the Blessed Virgin Mary
Personalities supporting this open letter
Bernard Antony, President, AGRIF
Xavier Arnaud, President, Catholic Forum
Victor Aubert, President, Academia Christiana
Patrick Banken, President, Una Voce France
Alex Barbas, Publisher
Heinz-Lothar Barth, Universitätsdozent für klassische Philologie im Ruhestand
Monika Gabriela Bartoszewicz, Assistant Professor, Masaryk University
Donna Bethell, Board member Collegium Sanctorum Angelorum & The Paulus Institute
Albert Bikaj, Political scientist
Moh-Christophe Bilek, Founder, ND de Kabylie
François Billot de Lochner, President of Fondation de Service politique
Benjamin Blanchard, DG of SOS Chrétiens d'Orient
Christoph Blath, Member of the Board of directors, Pro Sancta Ecclesia
Dominique Boily, Professeur
Thomas Bostock, Chairman – Australian Environment Foundation
Anne Brassié, Journalist and writer
Patrick Buisson, Historian and political advisor
Georges Buscemi, President Québec-Vie
Jason Carabello, Founder, Radio Free Catholic
Humberto Carniero, Professor da Faculdade de Direito do Recife
Jacques Charles-Gaffiot, Art historian
Stuart Chessman, President, Society of St. Hugh of Cluny
Pierre Dominique Cochard, Former journalist and business leader
Thibaud Collin, Associate Professor of Philosophy
Edgardo J. Cruz Ramos, President, Una Voce Puerto Rico
Laurent Dandrieu, Journalist
Yves Daoudal, Journalist – Blog Director
David Deavel, Editor, Logos: A Journal of Catholic Thought and Culture
Michel De Jaeghere, Journalist and essayist
Pierre de Lauzun, Senior Official Writer
Massimo de Leonardis, President International Commission of Military History
Roberto de Mattei , Former President of the CNR (Italian CNRS)
Jean-Pierre Destrebecq, Professor
Marie-Pauline Deswarte, Doctor of Law
Stéphane Deswarte, Doctor of Law, Doctor of Chemistry
Cyrille Dounot, D. in Law, Licentiate in Canon Law
C.J. Doyle, Executive Director, Catholic Action League of Massachusetts
Christian & Fabienne Drouhot, Presidents, Domus Christiani
Alvino-Mario Fantini, Editor-in-Chief of The European Conservative
Timothy Flanders, Editor, OnePeterFive
Rémi Fontaine, Journalist and writer
François Foucart, Journalist
Matt Gaspers, Managing Editor of Catholic Family News
Jules Gomez, biblical scholar and journalist
Jean Goyard, Communications Officer
Claude Goyard, University Professor
Giovanni Grimaldi Torelly, CEO & Co-Founder of WeThink Solutions
Max Guazzini, Former president of a media group
Michael Hageböck, Summorum Pontificum Freiburg
Gregor Hausmann, Member of the Board of directors, Pro Sancta Ecclesia
Michael Haynes, Journalist
Joël Hautebert, Professor of Law, University of Angers
Michael Hichborn, President, Lepanto Institute
Maike Hickson, Journalist
Robert Hickson, Writer Ordodei.net
Jasper Juckel, Journalist
Marek Jurek, Former President of the Polish Sejm
Paul N. King, President, The Paulus Institute for the Propagation of Sacred Liturgy
Peter Kwasniewski, Writer, composer, researcher
John Lamont, D. Phil. (Oxon)
Philippe Lauvaux, Professor of Public Law ULB Paris & Assas
Philip Lawler, Editor, Catholic World News
Leila Lawler, Auhtor, Blog
Anne Le Pape, Journalist
Maria Madise, Director of Voice of the Family
Christian Marquant, President of Paix Liturgique
Taylor Marshall, YouTube commentator & writer
Patrick Martin, Historien et théologien
Oleg-Michael Martynov, Una Voce Russia
Martial Mathieu, Docteur en Droit Université de Grenoble
Gertraud Marx, Initiativkreis kath. Priester u. Laien, Pro Sancta Ecclesia e.V.
Michael Matt, Editor, The Remnant
Jean-Pierre Maugendre, President, Renaissance Catholique
Philippe Maxence, Editor, L'Homme Nouveau
Jack Maxey, journalist and political analyst
Brian McCall, Chair in Law University of Oklahoma Editor-in-Chief Catholic Family News
Bronwen McShea, Ph.D., Historian
Charles de Meyer, President of SOS Chrétiens d'Orient
Paweł Milcarek, Founder and Editor-in-Chief Christianitas
Dominique Millet-Girard, Professor at the Sorbonne
Jean-Marie Molitor, Journalist
Martin Mosebach, Writer
Maureen Mullarkey, Writer
Georges Neumayr, Book author
Hugh Owen, Director Kolbe Center for the Study of Creation
Luc Perrin, Historian
Hugues Petit, Doctor of Law
Olivier Pichon, Associate professor of the university, TV liberty journalist.
Philippe Pichot-Bravard, Doctor of Law
Claudio Pierantoni, PhD History of Christianity & PhD Philosophy
Jean-Baptiste Pierchon, Doctor of Law
Constance Prazel, President of Liberté politique
Enrico Maria Radaelli, Research Director and Professor ICSA
Carlo Regazzoni, Philosopher of Culture
David Reid, President Una Voce Canada
Christophe Réveillard, Doctor of History, Academic
Monika Rheinschmitt, President Pro Missa Tridentina
Kevin Rowles, Catholic author
Hervé Rolland, Vice President of ND de Chrétienté
Eric Sammons, Editor-in-Chief of Crisis Magazine
Edward Schaefer, President Collegium sanctorum angelorum
Wolfram Schrems, Mag. theol, Mag. phil, catechist
Reynald Secher, Historian
Aaron Seng, President of Tradivox, Inc.
Jean Sévillia, Journalist, Historian, Writer
Pierre-Yves Simonin, Ambassador of Switzerland – a. Ambassador of the Order of Malta to the UN
Henri Sire, Writer, Composer, Researcher
Michael Sirilla, PhD, Steubenville, Ohio
John Smeaton Past SPUC CEO
Jeanne Smits, Journalist – Blog Director
Christian Spaemann, MD, psychiatrist and psychotherapist
Peter Stephan, Professor for Art History and Theory of Architecture, Postdam Univ.
Pierre-Edouard Stérin, Entrepreneur
Anthony Stine, Return to tradtion blog
Jean de Tauriers, President of ND de Chrétienté
Guillaume de Thieulloy, Press editor
Inge M. Thürkauf, katholische Publizistin
Marco Tosatti, Blog Editor, Stilum Curiae
Jérôme Triomphe, Lawyer
José Ureta, Book author
Philippe de Villiers, Former Minister, Writer
John-Henry Westen, Co-Founder and Editor-in-Chief of LifeSiteNews
Elizabeth Yore, Attorney, Founder YoreChilden
Alberto Luiz Zucchi, Presidente Associação cultural montfort
About this letter:
This open letter to Catholics around the world was written by dozens of personalities from all over the world who are attached to the traditional Mass (whether they are "traditionalists" or not, and even whether they are practicing Catholics or not). You can support their action by leaving your email in the form above.
For any questions, use the contact form.
Legal information:
Jean de Tauriers – Notre Dame de Chrétienté – 191 avenue du Général Leclerc 78220 Viroflay – France